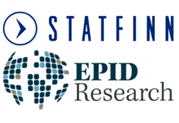 StatFinn and EPID Research merged their operations in January 2017 and as one company offer a full range of services in Clinical Trial Biostatistics and Data Management, Epidemiology and Real- World Evidence that covers the drug development life cycle – from Phase I to Phase IV and beyond.
We are offering an opportunity to work with the leading international healthcare organizations and the latest international healthcare trends in a dynamic and flexible environment of a growing expert company. If you are interested in drug development and international healthcare business, this would be an ideal place for you.
We are looking for a full-time SENIOR STATISTICIAN to our Gothenburg office in Sweden: Your main responsibilities include
– statistical planning and preparation of study protocols in our Real-World Evidence projects,
–  planning and performing data analysis, including writing statistical analysis plans,contributing to the writing of study reports and publications, and
– working in close collaboration with our other offices to build up a statistical team at our Gothenburg office.
We are looking for candidates with
– an academic degree (MSc or PhD) in statistics, applied mathematics, epidemiology or related field,
– applicable 5-10 years' experience as statistician within academia, pharmaceutical industry, contract research organization, or other relevant organization
– experience in using nationwide registers or other similar databases in drug research,
– hands on experience in statistical computing and script programming environments like R or SAS,- good communication and interpersonal skills, including, fluent written and spoken English,
–       ability to work independently and as part of international teams,
–       ability to quickly orientate into new projects, and
–       leadership skills.
Nice to Haves
–       prior experience in performing post-approval safety studies, drug utilization studies or comparative effectiveness studies,
–       experience from multinational studies,
–       ability to write or understand written Swedish.
Benefits
We offer a competitive salary along with other employee focused benefits for health and recreation. Our employees receive company issued laptops and phones as well as focused Orientation Training to ensure they are provided the best opportunities to perform their tasks. The working environment is vibrant, with high-energy team collaboration, opportunities for growth and development in a research orientated industry and development of not only your own career but a strongly growing international company.
Please send your application in English with your CV and salary request by 8th December 2017 to careers@statfinn.com. Please write "RWE Senior Statistician – Firstname Lastname" as the email subject.